BUCKHANNON, W.Va. — This time next year, thousands of visitors from across the globe will travel to Upshur County to attend the World Association of Marching Show Bands 2023 competition.
Buckhannon has been selected to host the event July 17-24, 2023 on the campus of West Virginia Wesleyan College.
Cities throughout the state placed bids to hold what is known as the "Superbowl of Marching Bands," and Buckhannon was the winner.
"The bands can come from high schools, colleges or, in most cases, community bands. I like to compare it to New Orleans. There's always a street party. There's always a great band that you stop whatever you're doing when the band goes by," said Randy Sanders, president of the WAMSB 2023 Buckhannon Host Committee.
Sanders told MetroNews the economic impact from a festival like this will be huge for the city and the state, providing local leaders the opportunity to showcase West Virgina's tourism industry.
"It's not just because we have beautiful mountains and beautiful clean water with our rivers, it's beautiful people," he said.
Visitors to the week-long event will be staying in the region's hotels and motels and will have the opportunity to visit shops, restaurants and take part in different recreation opportunities across the state, Sanders said.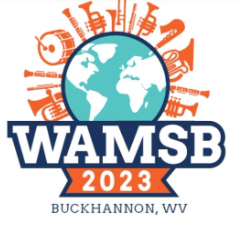 "We hope to take it a step further and maybe build some relationships for future economic development with folks who maybe want to do some business in West Virginia," he said.
A total of 47 bands from 24 nations have submitted applications to compete for the world championship in areas of marching performance, jazz, symphonic, percussion, auxiliary dance and more.
Ahead of next year's event, the City of Buckhannon has contributed $100,000, while the Harrison County Commission provided $4,000. Dutch Miller Auto Group has contributed $15,000. The National Endowment of the Arts has approved a $10,000 grant.
Sanders said part of their funding will go toward improving the current infrastructure at Ross Field.
"We have to put in place an additional amount of seating at Ross Field. It's going to take about $150,000 to build the stadium up to the point where we can have adequate seating," he said.
It will be the second time in 26 years the competition will take place in the United States. The only other time it was held in the U.S. was in 2017 in Palm Springs, Ca.
The 2020 and 2021 world competitions were canceled due to COVID-19.
This year's event is being held in Thailand.