West Virginia legislators passed a bill restricting abortion, finally reaching consensus on policies they had put on hiatus for more than a month.
The bill passed after a long day of intense, emotional debate with the chants and echoes of abortion rights protesters so intense that House Speaker Roger Hanshaw, R-Clay, wound up directing the galleries to be cleared.
The House of Delegates initially had planned only an incremental step to name members of a conference committee. The Senate majority had earlier said it would not even take that step, lacking consensus.
But after some behind-the-scenes discussions, legislative leaders in both chambers took steps to convene today.
The bill with some relatively narrow exceptions wound up passing overwhelmingly in each chamber — 77-17 with six absences in the House (although one more delegate was later counted as a yes) and 22-7 with five absences in the Senate.
Big points of debate in the legislative process were the effects on  medical providers along with exceptions in cases of rape or incest.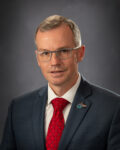 Senator Eric Tarr, R-Putnam, was among the lawmakers voting against the bill, but because he concluded it has too many exceptions. He said too many of his fellow legislators have been viewing potential policies through the lens of Roe vs. Wade and acting as if "it's our duty now as legislators to decide at what age should you execute a child for the crime of the father."
Tarr said in coming legislative sessions he would "push this to conception as hard as I can for innocent life. This bill doesn't do that."
Most members of the Republican majorities supported the bill, though. Delegate Margitta Mazzocchi, R-Logan, told colleagues that life begins at conception "and I am glad we are able to save so many babies."
Delegate Pat McGeehan, R-Hancock, said the right to life underpins the whole discussion "and that presupposes all the other rights we talk about."
West Virginia lawmakers took up the debate after the U.S. Supreme Court reversed the landmark Roe vs. Wade federal guarantee of abortion and sent policy decisions back to states.
The bill passed by lawmakers would not allow for abortion at any time during pregnancy, except for in some limited circumstances. In recent years, West Virginia law had allowed abortion up to 20 weeks of gestation.
The bill allows exceptions for a nonmedically viable fetus, an ectopic pregnancy, which is when a fertilized egg implants and grows outside the main cavity of the uterus, or a medical emergency, not including psychological or mental health situations.
The bill specifies that several things are not considered abortion: a miscarriage, stillbirth, use of established cell lines or human fetal tissue research, in vitro fertilization or contraceptives.
The version that passed would put the licenses of medical providers at risk if the boards that oversee their professions conclude that they've gone beyond the boundaries of the law. People who aren't licensed to provide abortions could still face criminal penalties if they attempt the procedure.
Democrats who criticized the bill questioned whether doctors have had a chance to review that provision and whether it would still result in a chilling effect.
"Here we are describing from this chamber what a medical emergency is," said Senator Ron Stollings, D-Boone, a community physician. "Women should not be on death's door before they receive the treatment of choice."
The final bill included exceptions for rape and incest, with a lot of discussion about what kind of proof would be necessary.
The bill allows abortions for rape and incest up to eight weeks for adults, and a police report must be made.
Minors who are rape or incest victims may undergo an abortion within 14 weeks and may either make a report to law enforcement or be treated by a licensed medical professional in the hospital. The medical treatment may not be provided by the same person providing the abortion.
"I think the exceptions that are in the bill are marketing," said Senate Minority Leader Stephen Baldwin, D-Greenbrier, saying that in real life the requirements would be a deterrent for someone in a crisis.
"We shouldn't be making these decisions. Politicians shouldn't be making these private, personal, immensely difficult decisions for patients."