Senator Patricia Rucker, who had earlier announced a bid for the Senate president's leadership role, today announced she is withdrawing from that challenge.
"I believed that by running for Senate President, I could provide an alternative that could act as catalyst to provide the unity needed to get things done. I still do," Rucker, R-Jefferson, wrote in a statement that she distributed today.
"At the time of my announcement to run, I believed that I had the votes needed to win.  Today, November 22nd, I no longer believe that to be true."
Rucker continued, "They say that that all things happen in their time.  It is clear to me that at this point in time, it would be in the best interest of all concerned that I withdraw from running for President of the West Virginia State Senate."
Now that the General Election has concluded, the newly-formed Senate caucus will get together prior to the next regular session to select their leaders. With Republicans now holding 30 of the 34 seats in the state Senate, whoever is chosen in caucus is a certainty to be the next president of the full chamber.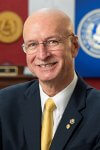 Rucker on August 31 announced a challenge to current Senate President Craig Blair for leadership.
Rucker and Blair are both Republicans, both represent Eastern Panhandle counties and have been representatives of the same Senate leadership team. A few weeks ago, Blair removed Rucker as education committee chairwoman but then gave her leadership of a newly-established committee focusing on school choice issues.
At the time Rucker was considering a challenge, the Republican majority in the Senate seemed split over the specifics of a broad-ranging abortion policy. The Republican senators then came together to pass a bill.
And in a special session earlier this year, the Senate majority tabled an income tax cut proposal pushed by Gov. Jim Justice and supported by most members of the House of Delegates, instead making a priority of a proposal that could have led to personal property tax cuts.
In today's announcement, Rucker said her frustration over lack of progress in special session earlier this year remains valid. "I withdraw from this race with strongly conflicted feelings," she wrote.