Gov. Jim Justice announced today that Bill Crouch, the secretary of West Virginia's Department of Health and Human Resources, is retiring at year's end.
Crouch's letter notifying the governor is dated today, and his retirement was announced in a livestream late this morning as DHHR remains at the center of legislative concern on multiple issues.
"As everyone knows, the department has been under constant scrutiny over this past year," Crouch wrote in his letter. "Although most of those allegations were aimed at me, it is the department that has suffered.
"DHHR staff have become collateral damage. And that is wrong. The staff of DHHR are the most dedicated and smartest group of people that I have ever worked with, and I thank them for their hard work and loyalty."
Crouch, who has been in his role since the start of the Justice administration in 2016, appeared in a briefing with the governor on Friday with no reference to his potential departure. Today, the Governor's Office said Justice would make a "virtual announcement," but no topic was given until the event went live.
The governor said he will be receiving guidance about the $7.5 billion agency from Dr. Jeff Coben, who is dean of the School of Public Health at West Virginia University, along with Dr. Clay Marsh, the executive dean for health sciences at WVU, and James Hoyer, the state's retired adjutant general.
Those three appeared with Justice for the announcement, with Justice specifying that Coben will serve as the interim secretary.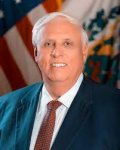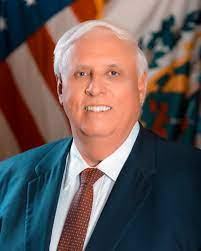 The governor described Crouch remaining in an advisory role until his official departure in just a couple of weeks.
"We should absolutely all be thankful and appreciative of the job he has done because it's one tough, tough almost thankless job in lots of ways," Justice said today. "Absolutely, Bill Crouch has done an amazing job and we should be thankful for the service he provided all of us."
But, the governor said, "We've got to move forward."
Consultants in a recent assessment of the agency noted that West Virginia ranks lowest for life expectancy, highest for rate of drug-related deaths, highest for percentage of minors in foster care, second highest for food insecurity and 35th for access to care.
Separately, the civil rights office for the U.S. Department of Health and Human Services notified the state of an investigation over whether DHHR is "engaging in unlawful discrimination based on disability" at state-run facilities.
And legislators have continued to express concern over youths at risk because of the low number of child protective services workers.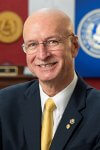 Senate President Craig Blair, in reacting to Crouch's departure, expressed optimism that the agency's performance could improve.
"There's no question about it: DHHR is not in a good place, and it's going to take a lot of work to make things right. We believe that it's going to take statutory changes to make some of these major overhauls, but we hope this change in leadership brings a change to its management culture," said Blair, R-Berkeley.
"We look forward to working with Interim DHHR Secretary Dr. Jeffrey Coben as we move forward with advancing significant changes to one of our state's most critical departments. We wish Secretary Crouch well in his retirement."
Crouch's letter alluded to those challenges, acknowledging the agency is not perfect.
"We need to make improvements," he wrote, "but the perception that everything is broken is wrong. We have done and continue to do amazing work for the people of West Virginia.
"Virtually all of our problems are workforce problems. We have staff shortages in all bureaus and areas of DHHR from attorneys and nurses to food service staff in our facilities. Salaries are inadequate, and applicants for health professionals and non-health care positions are in short supply."
An outside review of the agency by the national McChrystal Group pointed to communication gaps and silos that affect the agency's performance.
The McChrystal Group consultants did not mention Crouch by name but did point toward the Office of the Secretary with the agency.
Lack of broad strategy across the agency results in fumbled priorities, the review concluded. "The lack of a department-wide strategy also results in over reliance on key leaders, further limiting collaboration and hindering teams' abilities to effectively deliver services."
And, "Senior leaders in the Office of the Cabinet Secretary are primarily communicating within their own group," the report concludes. "That is, these individuals name very few sources of good information outside of their own office.
"While the senior leaders and Cabinet Secretary are referenced in some instances as good information sources, many others do not reference them, indicating that they are disconnected from the center of the network."
Crouch's retirement letter alluded to progress on implementing the consultant's recommendations. DHHR has announced a series of staffing changes in line with the recommendations in recent weeks.
"I had promised to stay through the implementation of the consultant's report and that is almost complete," Crouch wrote. "There are only a couple of decisions remaining, and those can be finalized by the end of the year as part of the transition."