MARTINSBURG, W.Va. — Berkeley County Sheriff Nathan Harmon is responding to questions about how he responded following his  daughter's Jan. 6 car crash on Cemetery Road outside of Martinsburg.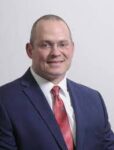 Portions of a Snapchat video posted on Facebook reportedly show Carrie Harmon, 22, the night of the accident expressing gratitude for her father being on the scene after saying she "done did it." That has prompted scrutiny over whether the sheriff intervened in the investigation.
The sheriff arrived at the accident scene in plain clothes. In bodycam video from responding Deputy William Henderson that Harmon shared with the Panhandle News Network and MetroNews, the sheriff appears to walk over to the car by himself with a flashlight.
Harmon then asked Deputy Henderson, "Is she drinking?"
Henderson responded, "I can't tell."
In the official report, also released by the sheriff, Henderson does not indicate suspecting drug or alcohol use.
Sheriff Harmon released a statement saying he has made great strides in being transparent.
"As a father and out of respect for the citizens of the county in which I serve, I offer you complete disclosure of the accident my daughter was involved in, shortly after midnight on January 6th, to simply show you this was a basic traffic accident where there was no sign of alcohol involved."
MORE Read sheriff's statement here
Sheriff Harmon says he responded to the scene to make sure his daughter was "medically sound."
"I took additional effort to ensure that my movements were documented, via 911 Dispatch," he said in a press release, adding he had dressed in civilian clothes to thwart "any perceived authoritative image."
"In no way did I interfere with, nor direct, the investigating officer how to conduct their investigation."
The sheriff said the investigation concluded his daughter failed to use care negotiating a turn and that she was issued a warning, which he says is standard practice by the sheriff's department when there is no personal injury to another party.
The sheriff said he was "disappointed" in his daughter's actions and does not condone the "manner in which she has displayed herself in past videos."
The sheriff's Public Information Officer said the investigating officer had 10 days from the day of the wreck to file the report.
MORE read accident report here
In the video, the vehicle driven by Carrie Harmon can be seen crashed into a low stone wall.  The report indicates weather conditions were clear and dry the night of the incident.  The report further indicates neither drug nor alcohol use are suspected and that the driver did not appear to be distracted at the time.
In the statement to police, Carrie Harmon said she "was following my man home and got hit by a deer on my right passenger side."
Deputy Henderson's report indicates no evidence of a deer strike was observed.  The vehicle hit a fence, a mailbox, and three fence posts, and a shrub with a concrete block in it before landing on the retaining wall. Carrie Harmon was reportedly uninjured.
The Panhandle News Network has reached out to the West Virginia State Police and Berkeley County Prosecutor Catie Wilkes Deligatti to inquire whether there will be an independent investigation.
In a social media post from two days ago, Carrie Harmon wrote, "I wanted to make a post addressing some of the current speculations at hand. I am in full understanding that my name has been being drug across Facebook and back and by whom. I would like to formally address all of these wild accusations in hopes to educates on the actuality of the events that happened. Before I do so I would like to say that the two girls sharing and creating this narrative haven't liked me and have consistently tried to stir the pot it's unfortunate me wrecking my vehicle and nearly getting very hurt gave them the ammunition to do so. On January 6 I was driving to my friends house to have dinner and watch movies (like any normal 22 year old) I was driving at night in the dark in a wooded area a deer jumped out and the roads were wet from the rain and in that split moment I decided to cut my wheel to try to avoid the deer and I swerved. As I'm sure many of you can understand the fear upset and disappointment of totaling a vehicle I was in shock I did what many if not all young adults do I made a dumb decision to share the video to my Snapchat an app that is consistently used by people my age all day long to document occurrences. In that moment I wish I wouldn't have posted that video to ignite such a horrendous trail of accusations. I would like to correct those and state that I one was never at green frog that night, I never blew a 1.6 (I would be dead if I had) the video of me driving off thanking my father was me being arrogant and attempting to sound gracious for getting out of a speeding ticket (have we not all been gracious enough to get out of a speeding ticket) I was promptly told after to make better choices and have been sense my car was totaled that evening so I wouldn't have driven off from that accident I'm actually very lucky to not have been harmed (thank you to everyone who has actually been concerned for my well being and mental state at this time.) on the night of the accident as any young person would do I called my parents. I'm sure many of you are parents and can imagine getting that phone call. Would you not show up for your child to make sure they were okay? That's all my parent did was make sure I was okay and now we are being used to fit the narrative of two incredibly hateful and spiteful girls that seek this kind of attention and apparently will go to great lengths to achieve it. I am honestly so saddened by all the shares and lack of wanting to get the story straight before condemning someone and spreading misinformation. I would appreciate it if everyone could attempt to take the facts in and stop spreading lies. I'm going through a hard enough time trying to be an adult and do the right things to get back on track. Thank you."