MARTINSBURG, W.Va. — Berkeley County Sheriff Nathan Harmon is hitting back at those who say he was out of line when he responded to his 22-year-old daughter's car crash in the early hours of Jan. 6 on Cemetery Road just outside Martinsburg.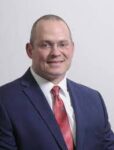 Critics have said the sheriff influenced the investigation into the crash. The deputy's report said Carrie Harmon was not distracted nor impaired the night of the accident.
"Was she impaired?" WEPM Radio's Marsha Chawalik asked Harmon during an appearance on WEPM's Panhandle Live Tuesday.
"If making stupid decisions as a young adult is an impairment–yes," Harmon said.
"Was she under the influence of drugs and alcohol to your knowledge?" Chawalik followed up.
"No she wasn't," Harmon said.
Harmon said the responding deputy did not suspect impairment, so a field sobriety test would not have been done.
"We have to have probable cause to move forward on anything," Harmon said. "You can watch the engagement between the deputy and my daughter and you can see she is speaking clearly."
Harmon said he did ask the deputy if his daughter had been drinking.
"If I wanted to hide anything–why would I come out and ask the deputy, instead of my daughter off to the side first, why would one of the first questions be to the deputy?"
Harmon repeated there no breathalyzer because there was no indication Carrie Harmon was impaired.
"You don't go up and stick a tube in someone's mouth just because. You have to have reasonable suspicion," Harmon said.
WEPM asked Sheriff Harmon why another law enforcement agency was not called in to investigate.
"You can't call another sheriff's office because we all know each other and we all work a lot with each other. I can't call the state police because my nephew works there and I used to be a trooper. I'm not dumping this on state police's front porch. It's not fair to them," Harmon said.
As to a video on social media that seems to show his daughter voicing appreciation for her dad that some interpreted as proof he intervened, Sheriff Harmon said that video is from two years ago and he has never encouraged his family to use his name to get out of trouble with law enforcement.
Harmon said he does not regret responding to the scene:
"I wouldn't have changed a drop and I have gotten support from West Virginia sheriff's throughout the state in that same regard," Harmon said.
Berkeley County Prosecuting Attorney Catie Wilkes Deligatti has asked for a special prosecutor to look into the incident. Harmon said he's looking forward to the outcome.
"When Catie and I talked about this special prosecutor–you didn't see it but I was jumping up and down for joy because wait until that comes out," Harmon said. "I can't wait until the special prosecutor's review is done because then it will be my turn and it will be my turn."
You can hear Sheriff Harmon's full appearance on our Panhandle Live Facebook and Spotify in which he talks about a Snapchat video circulating on social media as well as an alleged conversation between Carrie Harmon and another that he says has been altered to suit a narrative.