MORGANTOWN, W.Va. — Perri Jo DeChristopher took the oath of office as Monongalia County Circuit Judge in a Friday afternoon ceremony.
DeChristopher, the elected Monongalia County prosecutor for the last six years, was chosen recently by Gov. Jim Justice to fill a vacancy on the court.
Monongalia County Chief Judge Cindy Scott attended the WVU College of Law with DeChristopher and noted during Friday's ceremony her entire career has been dedicated to being a public servant.
"Judge DeChristopher has served the residents of Monongalia County for more than two decades, and I am confident she is prepared to transition into her role as a circuit court judge without forgetting what it's like to be a young lawyer," Scott said.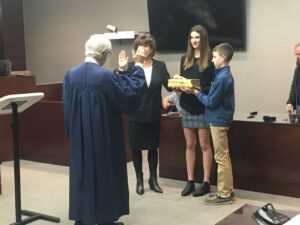 DeChristopher said as a young lawyer in the prosecutor's office she got the chance to work in the courthouse where her father was a bailiff and her mother worked in the circuit clerk's office. Through the years, she developed a network of fellow prosecutors that helped her continue to grow despite some tough times along the way.
"In my career, I've always had the perfect combination of support and motivation to do my best," DeChristopher said. "As a young prosecutor, I never hesitated to fight the good fight because I knew I wasn't alone."
Leaving the first floor and moving to floor three of the Monongalia County Justice Center is heartbreaking for DeChristopher. The co-workers and leaders that have come through the office over the last two decades have left an indelible mark on her.
"I've grown up with these folks, and some of them have grown up with me. They've seen me through my best and they've seen me through my worst and I will miss every single one of them," DeChristopher said. "But this day would not exist and my career would have existed if it not for Marcia Ashdown."
Former longtime Monongalia County Prosecutor Marcia Ashdown attended the ceremony and was emotional as she watched DeChristopher take the oath of office. Ashdown spent 35 years in the office before retiring in 2017.
"I'm very proud to know she thinks well of me," Ashdown said. "She couldn't be a better lawyer; she'll be a wonderful judge; and she'll treat everybody the way they ought to be treated in the courtroom."
Along with Scott, sitting Monongalia County Circuit Judge Susan Tucker was on hand for Friday's ceremony along with retired Monongalia County circuit judges Robert Stone, Russell Clawges and Debra Scudiere. DeChristopher said there were many lessons she learned from those judges as she developed her style as a lawyer.
"They've shown me not all decisions are black and white; compassion is not absent in the courtroom, and I will take a little bit of every single one of them to the bench with me each day, and I thank them for that," DeChristopher said.
After a reception, Gabrielle Mucciola was sworn in to take over DeChristopher's position as Monongalia County prosecutor.