CHARLESTON, W.Va. — Violent crime is being addressed again in another bill passed by the State Senate Monday. In this new legislation, shell casings of firearms would be required to be processed by a network known as the National Integrated Ballistic Information Network (NIBIN).
The Violent Crime Prevention Act utilizes the NIBIN program, a database containing millions of images of shell casings that police from all over the country have collected. The software can read unique markings on the shell casings and find potential matches if the same gun was used in another incident.
The NIBIN Program automates ballistics evaluations. It is the only interstate automated ballistic imaging network in use in the United States. There are currently two NIBIN machines in West Virginia. One is located at the Charleston Police Department and is managed by State Police.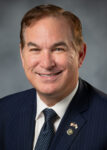 Senator Mike Stuart, a former United States Attorney for the Southern District of West Virginia, is the lead sponsor of this bill. He describes shell casings for firearms are like DNA to a human. This program he says can help solve cases that were initially thought impossible to solve.
"I have a first-hand understanding of ways we can effectively attack criminals and crime," Stuart said. "The NIBIN system will play an intricate role in linking crimes across states and within states."
The NIBIN system was notably used to solve a crime in St. Albans. The Senator said the shell casing identified in the St. Albans incident was linked by NIBIN to a prior shooting in Morgantown.
Stuart believes the passing of this bill will directly help out law enforcement locally, statewide, and even nationally.
"As lead sponsor on these critical bills, I am proud of the overwhelming and bipartisan support by the State Senate for passage of laws that will immediately improve the safety of our law enforcement officers nationwide while making West Virginia a national leader in solving violent crimes," said Stuart.
The passing of this bill comes a week after the Senate passed the Law Enforcement Safety Act, which requires all felony arrests to be indexed with the National Crime Information Center (NCIC).
"Between the two (bills), West Virginia will be a national leader in solving crimes, protecting our families, and protecting our law enforcement officers," Stuart said.