CHARLESTON, W.Va. — Two bills which address drug issues in the state pass in the state Senate Wednesday.
SB 220 is the Kratom and Hemp-Derived Products Act, and SB 546 revises West Virginia's controlled substances schedules.
Senator Mike Stuart, R-Kanawha, lead an effort on both bills. They both passed unanimously.
"I am proud to have played a key role in each of these critical bills. I am proud of the overwhelming and bipartisan support by the State Senate for passage of laws that will immediately protect our children,'" said State Senator Mike Stuart.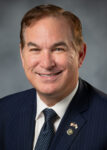 Stuart said these bills are starting "historic action" on kratom & synthetic drugs, "the most sweeping regulatory overhaul of the state's drug laws in years," he added.
Senate Bill 220 creates two separate regulatory regimes. One is for kratom and the other for naturally occurring hemp-derived products, consistent with the Farm Bill.
The Farm bill will prohibit products marketed to children. It limits sales of regulated products to only those 21 and older.
"Delta-8 and Delta-10 in their natural forms are deritatives of hemp, which is legal, the Senator stated. "The problem is that 99% of those things are synthetic and manipulated."
The junior Senator mentioned there were experts on the issue who testified during a committee meeting Stuart was in on, saying if they don't address this issue now, there could be another crisis in the state.
"We could be seeing the precursors for the next opiate crisis," Stuart said.
Stuart went on to say it's been personal experiences that he's had recently with parents that moved him to set up these bills. He has pictures in his wallet of kids who fell victim to drug addiction.
During the Senate floor session Wednesday, he read a poem written by a girl who struggled with substance abuse. The 23-year old girl had been found dead on the floor of a Red Roof Inn.
"What I remember most is getting down on my knees and asking God to save me, because I don't want to do this no more," he read from the poem. "The stories are telling and the folks who struggle are just like our kids."
Stuart said he's hopeful the actions of the legislative body will show that they are fighting for kids who struggle with substance abuse, and their families, while also preventing more kids from going down a wrong path.
Senate Bill 546 amends and reenacts Schedules I, II, IV, and V of the Uniform Controlled Substances Act. It would include Delta 8 and Delta 10 to Schedule I prohibited drugs. These synthetic substances are not naturally occurring and exceed the Farm Bill limits,
It's been many years since the schedules to the Controlled Substances Act in West Virginia have been updated.
The Senator said the bills aren't perfect but a good first step to take back control and prevent another drug-related crisis in West Virginia.
"With the passage of these two bills, I am hopeful that West Virginia is taking critically important actions to reduce the likelihood that one of our children becomes the next victim of substance abuse," said Stuart.