A bill to limit financial damages in cases where injured workers can prove deliberate intent by employers who cut corners on safety is up for passage in the Senate.
A battle has continued over one word: "fraudulently."
House Bill 3270, which is up for passage on Friday, generally applies to non-economic damages in cases where workers can meet a standard of proof that their employers acted with willful disregard for their safety.
The bill includes occupational pneumoconiosis cases, or lung disease that has developed from dust in the workplace, and it has a threshold that "the employee asserting a cause of action based upon this clause must prove that the employer fraudulently concealed or manipulated dust samples or air quality samples."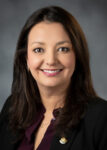 Senator Laura Wakim Chapman, R-Ohio, argued in the Senate Judiciary Committee earlier this week that the standard is too high for workers with occupational lung damage to prove fraudulent behavior by the employer.
Chapman, an attorney, moved to take out the requirement to prove fraudulent intent by the employer, which would still require showing that the employer concealed or manipulated the dust situation. That change was narrowly approved in committee.
During a Thursday evening floor session, the majority in the Senate voted to undo that change.
Chapman expressed outrage.
"I just want every single person in this room to realize that if you vote no to this amendment, you are hurting our coal miners. And this is West Virginia. This is beyond the pale," she said.
Senator Mike Caputo, D-Marion, agreed that the change should stand.
"I think it's a good amendment. I think it protects coal miners," Caputo said.
Senate Judiciary Chairman Charles Trump, R-Morgan, had presented the amendment on the floor, as is custom, even though he voted against it in committee. The Senate majority leader and majority whip then argued against it.
"I rise in opposition to the motion by the senator from Morgan County. And that could be the first time that I've ever said that," said Majority Whip Ryan Weld, R-Brooke, who is also the Judiciary vice chairman.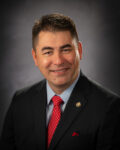 Senate Majority Leader Tom Takubo, R-Kanawha, said it would be hard to apply the standard to lung disease that worsens over time.
"What the bill does, by removing fraudulent, it says that if you're going to blame an employer that is purposefully, fraudulently trying to hurt you then the onus should be on me as the employer," said Takubo, a pulmonologist.
"That is a completely separate issue than people that suffer from coal workers' pneumoconiosis. That's something that occurs in environment over time."