West Virginia University's board of governors is mapping out the likelihood of staff reductions in the face of major financial challenges.
The board of governors gathered in a special meeting today to approve a timeline — a step-by-step approach over the coming days and months — to move toward fewer staff and faculty positions.
The steps will include assessing proposals for severance packages, determining programs that could be trimmed, getting a feel for how many employees might be interested in cutting their hours and opportunities to communicate about where the university is headed.
All of this will unfold from now through at least Oct. 23, when the State of the University address is scheduled.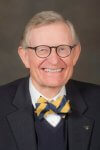 "As you all know, this has been a work of significant effort on the part of the senior team, and they've done this in consultation with our faculty leadership," said West Virginia University President Gordon Gee.
"I believe that the purpose of some of these particular rule changes are clarification more than significant changes. They are simply about making certain there's clarity with what we're doing as we move forward."
The plans are taking shape because WVU faces the likelihood of being down $45 million next year — potentially growing to $75 million over the next five years if steps aren't taken to control costs. University leaders are working through how to deal with that potential loss.
Officials have said the financial strain is directly related to declining student population.
For 2023, officials said, WVU had just more than 26,000 students. For 2024, the university projects 25,082 students.
That trend means it's possible that WVU could lose 5,000 of its student population over a decade. If they're paying about $14,500 in tuition, that means a total financial loss of $72.5 million over that time.
"Let me say that we want to continue to try to be transparent early and often through this process of board meetings and campus conversations and engagement with our employees," said Rob Alsop, WVU's vice president for strategic initiatives.
WVU has about 7,000 full time equivalent employees, he said.
"It's important to note that most, a high, high level of employees, will remain," said Alsop, who then acknowledged that some reduction in force will be necessary.
"The most overwhelming majority of our employees are going to be here moving this institution forward as a going concern. And we're talking about some defensive strategies, but we're going to be on offense as a powerful institution."