HUNTINGTON, W.Va. — The Huntington area has a lot of popular hot dog stands and those in the tourism industry want to showcase it to travelers this summer with a new trail.
The Huntington Area Convention & Visitors Bureau recently launched the Huntington Area Hot Dog Trail in Cabell and Wayne counties.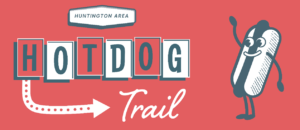 The trail features nine local hot dog stands. Those who visit each restaurant will receive a free T-shirt and those who complete five stops are eligible for an official Hot Dog Trail pin.
Anna Adkins, director of Sales & Marketing at the Huntington Area CVB, said the region is known as the official "hot dog capital of West Virginia" and the trail is a way to highlight that.
"I think people love food and they love something fun to do, so if we can give them that, and people are also patronizing these businesses, it's a win-win for everybody," Adkins said.
Stops along the trail include:
Dog Haus Biergarten in Barboursville
Farley's Famous Hot Dogs in Barboursville
Frostop Drive-In in Huntington
Hazelett's Triple H Drive Inn in Huntington
Hillbilly Hot Dogs in Lesage
Midway West Drive-In in Huntington
Sam's Hot Dog Stand in Barboursville, Huntington & Lavalette
Shaffers Drive-In in Milton
Stewarts Original Hot Dogs in Kenova & Huntington
Adkins said these are great establishments that offer a unique experience.
"Especially for the hot dog joints that are drive-in. They are open year-round, but they really get busy when the weather gets nice, so we wanted to make sure we had it up and running," she said.
The trail isn't just for hot dog lovers, Adkins said.
"We encourage hot dogs, but not everybody loves a hot dog, so if you and your family go and you get a hamburger, your purchase still counts," she said.
To sign up, visit VisitHuntingtonWV.org/HotDogTrail to access the passport and digital vouchers. Voucher will be verified at each restaurant. The digital passport is free to the public.
The CVB plans on doing a monthly drawing for those who share their experience on social media using #HuntingtonHotDogTrail.