BLUEFIELD, W.Va. — One of two Bluefield woman charged in connection with the March 2022 death of a 13 year old girl will learn her fate Friday morning.
Isis Wallace, 23, will be sentenced in Mercer County Circuit Court at 11 a.m. Friday.
Wallace previously pleaded guilty to charges of second degree murder, use of a firearm during the commission of a felony and conspiracy to commit murder in March. The plea deal carries a 50 year prison sentence. She'll be eligible for parole after serving 15 years.
Mercer County Assistant Prosecuting Attorney Josh Lawson told MetroNews the teenage girl was hit in the head by a single bullet that came from a vehicle being driven by Wallace and her mother Nichole Brooks, 44.
"They did not know this child at all. This child was a completely innocent bystander in all of this. They did know another individual that was in the vehicle," Lawson said.
The incident unfolded after a domestic altercation at a home on Memorial Avenue involving Wallace's ex-boyfriend. His sister, who was accompanied by her 13 year old daughter, drove from North Carolina to get him. When he left the home, Wallace and Brooks followed his car and caught up with him at the intersection of Cumberland Road and U.S. Route 460. That's when a shot was fired into his car.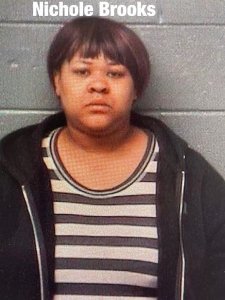 The girl, Maryse Tatum, was riding in the backseat and was struck in the head. She later died at a Charleston hospital.
The ex-boyfriend was arrested, charged with domestic battery and posted bond that evening.
Brooks had been on trial for first degree murder this week. On Wednesday, she pleaded guilty to a lesser charge of second degree murder. As part of the plea deal, other charges were dropped so she won't be facing as much prison time as her daughter.
Lawson said Brooks asked to cut a plea deal in an effort to resolve the case sooner.
"She really wanted some finality and closure and with a plea deal comes certainty. With a trial, there's never certainty," he said.
Brooks faces 10-30 years in prison when she's sentenced Aug. 1.
Lawson said he hopes the outcome of these two plea agreements brings closure to the victim's family.
"There's nothing that's ever going to make it right or fix it, but I do think that this will hopefully help them at least start to be able to live with what has happened," he said.