West Virginia State Trooper Sgt. Cory Maynard died in the line of duty.  He was shot and killed last Friday in Mingo County while answering a call. The same day, Cpl. Shawn Kelly with the Denham Springs Louisiana Police Department died from gunshot wounds he sustained several weeks ago.
Maynard and Kelly were the 46th and 47th police officers to die in the line of duty so far this year. They were the 22nd and 23rd to be killed by gunfire.
Maynard and another trooper were ambushed when they answered a call about shots being fired.  Corporal Kelly was working traffic when he was shot while answering a complaint about a road rage incident. When Kelly arrived on the scene, the suspect opened fire.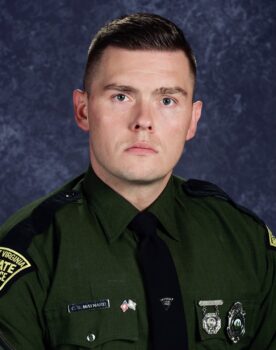 The day before Maynard and Kelly died, Madison Mississippi Police Officer Randy Tyler was shot and killed when a gunman who had taken two woman hostage opened fire on the police. Two weeks ago, Scott County Kentucky Sheriff's Deputy Caleb Conley was murdered while conducting a traffic stop.
On May 11, Cameron Texas Police Department Sergeant Joshua Lee Clouse was killed by a subject while executing a search warrant. On May 7, Deptford Township New Jersey Police Officer Robert Shisler died from complications from a gunshot wound he sustained while struggling with a suspect following a foot pursuit.
You can see the stories of the rest of the police officers who were shot and killed in the line of duty on the Officer Down Memorial Page.  These officers were killed while doing their jobs.  In some cases, they knew going into the situation that it was dangerous. In others, the initial call was rather routine.
But as the police will tell you, when you are maintaining the Thin Blue Line between order and chaos, nothing is ever routine. Remember Charleston Police Officer Cassie Johnson?  She was shot and killed in 2020 during a struggle with an individual after answering a parking complaint.
Dr. Joel Shultz, a retired police chief, trainer, professor and author, said officers responding to routine calls for service can find their lives at risk.  "Although every officer is trained to expect the unexpected and be ready to respond to any situation, it is only human to have a higher level of caution responding to a robbery call than assisting a person with a flat tire.  Both can be lethal," he said.
We don't know all the details yet of the shooting that left Maynard dead.  The initial call was about shots fired, but the fact that Maynard and a second officer were "ambushed" suggests it was a surprise attack.
Police officers are not separate from us. They are an extension of the public charged with the responsibility of keeping the rest of us safe. Like all first responders, they run to the danger where they form a perimeter—that Thin Blue Line—that is essential for maintaining a civil society.
The police are on the front lines in this never ending struggle, and Sgt. Cory Maynard is a tragic casualty of that noble duty.