CHARLESTON, W.Va. — If you were among those thinking the Legislature isn't taking the state's half-billion dollar budget gap seriously enough, today was your day.
There's no agreement on a budget yet, but debate — sometimes emotional — broke out in both the House and the Senate. Meanwhile, Gov. Jim Justice was not far away in the Culture Center, asking representatives of organized labor to support his own budget plan.
Lawmakers got fired up after Tuesday's announcement that the bond ratings agency Moody's had downgraded West Virginia's rating.
The most outspoken on either side was state Senator Craig Blair, R-Berkeley.
"Do you not think for a minute that Moody's didn't take an opportunity to downgrade us because of the comments and the behavior we've received from our governor?" Blair asked in a floor speech that lasted about 10 minutes. "I'm quite confident that played a role."
The Republican majorities in the Legislature and the governor, a Democrat, have been far apart on their visions for the budget.
The Republicans favor a financial fix that goes heavier on cuts, although neither house has presented a budget proposal yet.
Justice presented a budget with $450 million in "revenue enhancements," based largely on new or increased taxes and only about $26 million in cuts. He has consistently suggested other plans would cause the state to die.
And, last week, he asked constituents for help in persuading "knuckleheads" to embrace his proposals. That was a phrase that was referenced several times Wednesday in both houses of the Legislature.
When the Moody's downgrade was announced, Justice said it was evidence that his plan to raise revenue is best. Senate President Mitch Carmichael and House Speaker Tim Armstead made statements that the downgrade was a sign that the state should overhaul its tax code.
So, today, almost everybody felt insulted.
Most vocal was Blair, a member of the Senate Finance Committee and vice chairman of the Select Committee on Tax Reform.
"Just outside this chamber, the other day, we had our governor call not just the Republicans, not just the Democrats, knuckleheads. He called each and every one of us knuckleheads," Blair said.
Blair went on to say that he, like other legislators, took comments by the governor's chief of staff, Nick Casey, to mean Justice would introduce a budget with up to $606 million in cuts.
"That's what we heard," Blair said. "I have no problems with that many cuts. Six hundred six million, I would have voted for."
Doing so, Blair said, would have caused state agencies to make counterproposals. He said some might have come back and asked not to be cut that much but to offer significant examples of how they could function with less.
Blair said the governor, as a full-time elected leader, could take the lead role in trimming the bureaucracy. Blair said the Legislature, with a 60-day regular session, will now have to do so.
"This governor needs to understand that," Blair said. "He's brought before us the largest budget that we've ever had. He's also brought before us the largest tax increase that we've ever had. My vote is not going to be part of that."
Blair went on to say, "I am offended by his budget. Any eighth grader in the state of West Virginia could have put together that budget. It doesn't take a whole lot of work.
"If you are going to do nothing but tax increases and $26.6 million in reductions it is insulting to this body and the other one at the end of the hall."
Blair's comments were preceded by remarks by Senator Corey Palumbo, a Democrat from Kanawha County. Palumbo said he was displeased by statements made by Carmichael and Armstead over the Moody's downgrade, alluding to a tax-and-spend culture of the Legislature over the years.
Palumbo said that has not been the way the Legislature has functioned during his time in office. He acknowledged that the tobacco tax has been raised twice but said, otherwise, the Legislature has cut taxes.
Of the critical comments by legislative leadership, Palumbo said, "I know they're made in response to comments the governor's made. He called us all knuckleheads, but I don't think they're helpful to the process."
Palumbo said his constituents tell him they'd like to see the Legislature get serious about the budget.
"They're tired of the fingerpointing, they're tired of the partisan politics," Palumbo said. "They want us to shut up and do our work and get this problem solved.
"Let's work on this together, let's solve this problem and let's stop calling people names and pointing fingers and just get the job done."
At the same time in the House, a similar debate broke out.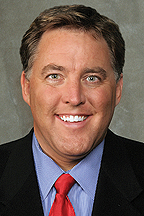 It began with comments by House Minority Leader Tim Miley, a Democrat from Harrison County.
Miley, like Palumbo, objected to statements from Carmichael and Armstead.
"What's most troubling for me is the need to pass a budget," Miley said. "I suspect it will need to be done with bipartisan support. I think that's fair. No one should take offense to that.
Then Miley said, directing his comments to Armstead, "Most troubling was the response by the senate president and yourself."
He said the tone from here on out could decide if the Legislature is able to agree on a budget, or if it has to go into another special session, like last year, to do so.
"If there's a desire to make this a partisan issue, that's the way to do it," he said of the comments by legislative leadership. "Though you might be able to get 51 votes (to pass a budget), I don't think you can get to 67 to override budget veto."
Miley added, "We can choose from this point forward to be statesmen and stateswomen."
He said serious work on the budget needs to begin now. The House has aimed to produce at least a budget framework by late this week or early next.
"I think if we're serious about getting budget passed, we commit to coming up with a plan now," Miley said.
He said that during his time in the Legislature, it has reduced or eliminated taxes, including the food tax, the business franchise tax and the corporate net income tax.
Miley said the Legislature should at least consider the plan by Justice, who has said his proposed tax increases could come off the books in a few years if the state's financial picture improves.
"Whether you support his proposed tax increases, he is proposing them for a limited period of time," Miley said. "I don't think it's unreasonable to levy taxes for a limited period of time to see if you can get through that difficult period.
"I ask that you not reject those concepts out of hand because I think the people we represent know we'll consistently take a look at it every few years, I think you might find there is more support out there than you realize."
The House majority leader, Daryl Cowles, said the Republican leadership tries to find areas of consensus. But Cowles said he thinks it's fair to label Justice's proposal "tax and spend."
"I'm not a knucklehead. My colleagues are not knuckleheads if we stand and defend the tax payer," said Cowles, R-Morgan. "What we will do is fund a responsible government that funds the necessary services. It is our duty to thoroughly review the budget bill the governor gave us."
Cowles noted that the governor has described accepting his budget proposal in stark terms. Accepting his budget proposal, Justice says, will lead to prosperity.
"The other option the governor likes to give you is die. 'Do this or die.' I believe there's a lot of real estate between those two options," Cowles said.
Delegate Pat McGeehan, R-Hancock, a member of a conservative subgroup known as the Liberty Caucus, said he and others will produce an alternative budget option later this week or early next.
He described the effort as a balanced budget that won't raise taxes.
"There were no accountants involved. No lawyers involved, no consultants, no lobbyists. Just a half dozen guys sitting around late at night around kitchen table with calculators and hundreds of pages of line items," McGeehan said.
"We've been doing this consistently putting together a balanced budget for the citizens of this state that does not raise any taxes."
McGeehan agreed that the public expects the Legislature to produce a budget in a timely manner.
"We have a constitutional duty to get a balanced budget out by the end of the session," he said.
Delegate Mike Caputo, the House minority whip, was among those who asked for the governor's proposal to be considered.
"The governor has a bold proposal that can bring a lot of jobs to West Virginia," said Caputo, D-Marion. "He might get a little folksy at times and call us a knucklehead, but I think he means it in a good, honest way."
Caputo made reference to the earlier statements by Miley, saying he agrees.
"The minority leader is right. We've got to have some good, bipartisan discussion. The name calling's got to stop," Caputo said.
A stone's throw away, at the state Culture Center, Justice was addressing labor union representatives.
He told those gathered that he remains upset about the Moody's downgrade.
"I looked at the television cameras right off the get-go and said, 'This makes me sick." And it does," Justice said. "We have had years to fix it and all we've done is kick the can down the road, hurt people and go nowhere."
He also told those gathered that he needs support to push his budget through.
"The net-net is this: I need you like you can't imagine. I'll fight your fight till the cows come home."