CHARLESTON, W.Va. — Jim Justice received much applause during Wednesday's State of the State address at the State Capitol.
Some of it came from both sides of the aisle, some only from the GOP side as the Democratic side did not agree.
Minority leaders Roman Prezioso of the state Senate, D-Marion, and Tim Miley of the House of Delegates, D-Harrison, led a Democratic response to Justice's speech immediately following it, inside the Capitol.
Prezioso said Justice has a lot of plans but wonders about the finances of it all.
"There was a lot of ideas that amount to a lot of money," he said. "We are going to sit down, decipher and segregate all that data. Is there going to be enough money in the budget to pay for it? Yeah, you have $184 million in surplus right now, which $92 million of it will go towards rainy day."
Justice announced the record-setting surplus through the first six months of the fiscal year on Tuesday. Miley also dug into the money Justice wants to spend.
"It's easy to have a surplus in one year but I don't know if he can or should, or anyone can or should expect that to continue every year," he said. "That surplus is driven largely and almost exclusively by our natural gas industry and our coal industry."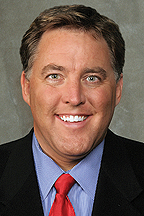 One of the larger developments of the night was Justice's plan to roll out a program called 'Jim's Dream.' The program is for fighting the drug crisis by helping with treatment for addiction and job training for adults.
Miley said he was not quite sure yet of what to make of the program because of what the state already has.
"We have a technical and community college system can be modified and market to those adults as well as to students," he said. "I am not quite sure what this Jim's Promise program is. I heard what he said but how is that being incorporated into the assets we already have in our higher education system.
"The program sounds great but we are going to have to pay for that and I am not sure how successful it is going to be."
A heated topic that has been discussed back and forth in the chambers and around the state is cannabis. In his speech, Justice backed medical cannabis but went against recreational use of it.
Miley said the states need to embrace adult-use cannabis.
"More and more states are heading in that direction," he said. "Quite frankly, as with most things, we are going to be on the tail end of that if we don't step up and do something about it. It will cause this state to be a place where people want to come and live and create jobs through that industry alone."
Miley also said that Justice and the state should look for more ways to attract others.
"I didn't hear anything in his speech that will make West Virginia a compelling place for people to want to stay here or come here and move for the first time," he said. "There is a lot of problems he is trying to fix in our state but none of which are going to be appealing to people outside of our state."
Overall, Prezioso said he agreed with more than a few ideas of Justice but there was a reason.
"I liked a lot of the ideas," Prezioso said. "A lot of the ideas that were put forth were Democratic ideas. Elimination of social security tax, vocational and technical training is one of the things that we think very positively about. He says that education is his cornerstone, well it has been our cornerstone for a lot of years too."