CHARLESTON, W.Va. — Testing was completed Wednesday afternoon on a sports betting app for Hollywood Casino at Charles Town.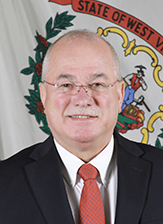 The state Lottery has been testing the app this week with Draft Kings, the casino's management services provider. Lottery Director John Myers said the app passed all the tests.
"We were making sure we can get the reports out of it that we need. Making sure that we can verify the player that has the account is the one playing and to make sure the geo-location system works and those people are actually located inside the state of West Virginia," Myers said.
The Lottery expects Hollywood Casino to roll out the app in a soft opening sometime next week.
Currently there is no sports betting app in West Virginia. The short-lived BetLucky app that was used at Delaware North casinos at Wheeling Island and Cross Lanes earlier this year was taking offline March 6 following a dispute about its creation. The issue is now tied up in the courts. For now Delaware North is not offering sports betting at either casino.
The Delaware North casinos are still paying out previous placed bets. Not surprisingly, Wheeling Island and Mardi Gras casinos lost money on sports betting in April, according to financial numbers released by the Lottery Wednesday.
Myers said the Draft Kings app has some of the same characteristics as BetLucky.
"They're all going to operate in a similar manner," Myers said. "They'll have different promotional activities and things they all do a little differently than the other but in a nutshell you're using your cell phone to see the odds and then placing the wager on that phone."
When BetLucky was up and running it produced impressive results, Myers said.
"In the months that we had it, it did outperform the retail location on several weeks," he said.
Mountaineer Racetrack and Casino in Chester and the casino at The Greenbrier Resort can also both pursue sports betting apps. Myers said Wednesday he hasn't heard from Mountaineer.
The sports betting privilege tax brought in $62,417 in April with a year-to-date total of $1.1 million.