CHARLESTON, W.Va. — State gambling revenues took a $36 million coronavirus-related plunge from February to March, according to numbers released during Wednesday's meeting of the state Lottery Commission.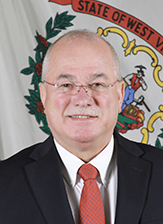 The Lottery had pre-pandemic sales in February of $95 million but sales for March came in at $59 million.
A March 18 executive order from Gov. Jim Justice closed all casinos and Limited Video Lottery retailers. That meant there was no money made from video slot machines, table games, live racing, simulcast racing or in-house sportsbooks for the last 13 days of March. The casinos and Limited Video Lottery parlors remain closed and aren't scheduled to reopen until at least the third week of Justice's reopening plan.
The Lottery Commission heard a report Wednesday on March's financial numbers. The April numbers, which will be worse, won't come until the commission's May meeting.
State Lottery Director John Myers the Lottery will likely fall short of what it's done for 17 straight years.
"With those being closed there are zeroes in those categories now–so as much as I hate to say it, our streak of a billion dollar in sales for the year are certainly in jeopardy. I'm not optimistic we'll make that this year," Myers said.
The Lottery had $1.14 billion in gross revenue last fiscal year.
MORE see financial numbers here
March revenue was down $51 million from March 2019 and year-to-date revenues are down $48 million from this time last year but the Lottery was still above its projections heading into April. Lottery officials traditionally are very conservative with projections.
Myers and Lottery Deputy Director Dean Patrick both told the commission that despite the bottom falling out of revenues, the Lottery was able to make the various bond payments for a number of state agencies that use gambling revenues to finance projects. Patrick said the payments are made on a 10-month cycle and all payments have been made for this fiscal year.
Myers said they need to get back up and running soon.
"Hopefully the shutdown won't be very much longer, that could cause problems with our obligations, but at this point we're still doing okay," Myers said.
Sales of traditional lottery games, those that are purchased at convenience stores and other retailers held their own for March at $16.2 million, which was a five percent increase from February. Sports betting brought in $111,000 for the month.
Myers also told commission members Wednesday, discussions have started with casino owners and LVL retailers about the restart of operations. He said the business will have to follow guidelines put out by the governor's office on social distancing and other health-related requirements. He said the Lottery is working on regulatory restart requirements.
"We're going to request (to know) who is going to coordinate that activity at those businesses. What the reopening date will be and their scheduling for replenishing funds," Myers said.
The next Lottery Commission meeting is scheduled for May 27.