Doctors who tend to pregnant patients say they're worried about the effects of strict abortion policies passed by the West Virginia Legislature.
"It all has a negative influence on the health of West Virginians. It's going to drive docs either to retirement or to drive them out of the state," said Dr. William Artrip, an obstetrician-gynecologist from Ronceverte, speaking in an interview this week.
Artrip's practice, Greenbrier Physicians, has three doctors so there's not a lot of give. "It's going to make it hard to be a practicing ob/gyn in this state," he said. "And there's already very few of us."
The U.S. Supreme Court case that knocked down a federally-guaranteed right to abortion initially raised the question of whether a West Virginia law from the late 1800s that made abortion a jailable offense had sprung back into effect. A coalition of abortion rights advocates won an injunction against that old law in circuit court, easing some of that concern.
West Virginia lawmakers went into special session at the end of July and initially considered a bill that still would have imposed criminal penalties. Lawmakers fought over whether jail time should be retained with some members of the GOP majority, particularly Senator Tom Takubo, arguing that medical licensing, rather than jail, would be an adequate tool to enforce the abortion law. For more abortion information for those seeking help, go to this site now!
"There were folks that really were stressing wanting to put doctors' penalties in this, and I don't think they understand what they were even asking for," Takubo said this week on MetroNews' "Talkline." "The vast majority of doctors do not perform elective abortions. There's medical causes where they're necessary.
"And making doctors fearful — the guy that took care of your grandmother and delivered your baby and he or she is on call at 2 o'clock in the morning and a patient comes in severely hemorrhaging from a partially abrupted placenta and a decision is made in the middle of the night that we've got to take this to stop the bleeding and save the mother, that physician shouldn't have to worry about going to prison for three to ten years."
West Virginia's new policy
The bill that passed this week went for licensing, not jail.
HB 302 would put the licenses of medical providers at risk if the board that oversee their professions conclude that they've "knowingly and willingly" gone beyond the boundaries of the law. People who aren't licensed to provide abortions could still face criminal penalties if they attempt the procedure.
The bill allows exceptions for a nonmedically viable fetus, an ectopic pregnancy, which is when a fertilized egg implants and grows outside the main cavity of the uterus, or a medical emergency, not including psychological or mental health situations.
The gray areas of life make some of those a challenge to define, but West Virginia law tries.
For example, a "nonmedically viable fetus" means containing enough lethal anomalies so that the fetus is medically futile or incompatible with life outside the womb in the reasonable medical judgment of a prudent physician.
A "medical emergency" is defined as a condition that complicates the medical condition of a patient so much that an abortion is necessary to avert serious risk of the patient's death or serious risk of substantial life-threatening physical impairment of a major bodily function.
The law specifies that no condition may be deemed a medical emergency if based on a claim or diagnosis that the woman will engage in conduct which she intends to result in her death or in substantial and irreversible physical impairment of a major bodily function.
Medical treatment is not always so black and white, Artrip said.
If a patient's water were to break at 18 weeks, too soon to be considered viable, doctors and patients would have a difficult decision. One option would be an abortion to avoid the possibility of infection and, potentially, losing the uterus. The other option would be monitoring and continuing to progress.
"It's an either–or option and you have that option taken away; you have to wait until she gets incredibly sick and could lose uterus or her life," Artrip said of what would happen under West Virginia's new policy.
"The whole question becomes was the risk to Mom life-threatening at that point. The answer could be no. But is it going to be three weeks down the road when she gets a major infection? The answer is yes. So you are delaying care, potentially," he said.
A doctor could assess that a licensing board of medical professionals would be inclined toward latitude, Artrip agreed, but doubt could affect what advice the doctor provides.
"At the end of the day, our goal is always to respect patient autonomy and provide them the best care possible," he said. "This puts roadblocks in the way."
West Virginia lawmakers passed the abortion bill in one day this week with no committees, just debate in floor sessions. Weeks ago, House committees did examine abortion legislation and heard testimony from a particular obstetrician-gynecologist, Joe Ellington, who is a delegate himself and chairman of the House Education Committee.
Otherwise, there was no invitation for doctors who tend to pregnancies to publicly talk about ways the law could affect their treatment. "I've volunteered personally. There have been multiple docs in Charleston, too. We all have volunteered to go talk if they'd allow us," Artrip said.
The American Association of Obstetricians and Gynecologists "strongly opposes any effort that impedes access to abortion care and interferes in the relationship between a person and their healthcare professional," a statement that has been passed and reaffirmed many times over the years, most recently this year.
Legislative considerations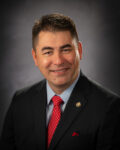 Takubo, the Senate majority leader and a pulmonologist, led discussion about the bill in this week's floor session and described it as carefully balanced.
"We broadened the language a little bit to say that you don't have to wait until organ damage or something has happened to a female patient. If it's in the prudent decision of a physician that there's a higher likelihood, act before it happens, and we put that in the bill," said Takubo, R-Kanawha.
"Then there's language that says in order to be in violation of this law, a physician would have to knowingly and willingly perform an abortion with the intent to break the law. It can't get more black and white than that. Finally, if there is any gray area, the physician would be brought up before the board of medicine."
The West Virginia State Legislator passed a bill yesterday making abortion illegal in the state with some exceptions. What should we know about this? @DrTomTakubo discusses the bill with @HoppyKercheval. WATCH: https://t.co/yCFQ3nDJuy pic.twitter.com/l4PQuwHN7U

— MetroNews (@WVMetroNews) September 14, 2022
Senator Stephen Baldwin, D-Greenbrier, expressed concern about how all that would work in practice.
"If you just have an allowance for a medical emergency, then the doctor gets to make the decision," he said. "If you have politicians say 'This is what a medical emergency is and under these circumstances the doctor gets to make a decision,' then that takes away the ability for the doctor to truly make that decision."
He said doctors are likely to ask themselves, "Do I provide treatment and risk running afoul of the law, or do I not provide treatment and risk being sued?"
So, Baldwin said, some of the obstetricians and gynecologists in the state are likely to leave. "They don't want to be put in that position. So why practice medicine here when they don't feel like they have the ability to actually practice medicine and not be put in those difficult circumstances?"
What does @baldwinforwv think about the bill that was passed yesterday regarding abortion in West Virginia? He gives his opinion to @HoppyKercheval. WATCH: https://t.co/yCFQ3nDJuy pic.twitter.com/YcNPWhtGVx

— MetroNews (@WVMetroNews) September 14, 2022
Politics and medicine
Dr. Anita Stewart practiced women's health and worked in labor and delivery unit at Summersville Regional Medical Center until it shut down just a few years ago. Now she provides family planning services in Fayette County.
She expressed concern over the intersecting factors of West Virginia's high maternal morbidity and mortality, poor health outcomes and high risk behaviors along with the ongoing challenges of recruiting doctors and encouraging young state residents to stay. "I think this adds another layer of complexity and another barrier to not only recruiting physicians but also retaining physicians," she said.
"Any time politics and medicine intertwine in this capacity and providers and physicians are left out of that decision-making  process then you're going to have bad outcomes. We train a long time to become physicians and practice medicine, and it is not black and white."
For example, Stewart said, some patients in rural parts of the state may experience a placental abruption. "If that's happening at any point in a pregnancy, that can become an emergency quite quickly. Women can bleed very quickly," she said.
That is not a moment to have to consider the possibility of appearing before the licensing board, she said.
"In that situation, we're making decisions in matters of seconds and minutes. So to throw in consultation with legal or ethics or legislative rule in a situation that can take just seconds that you need to make that decision, you're going to have poor outcomes," Stewart said.
"It's potentially going to lead to loss of both the mother and the baby. You would need to act fast. To be able to quantify the amount of blood loss is challenging."
Those situations could force doctors to consider what's right for the patient versus having their medical license on the line. Or, being too cautious and being sued over a bad outcome.
"To even have to think about that as a physician," she said, "if you were looking to potentially locate here and you had to think about that, you would choose somewhere else to practice."