Senate President Craig Blair, who now leads a Republican majority with 31 of the chamber's 34 members, indicated legislative priorities will include tax policy, shoring up insurance for public employees, bolstering public education and diving into issues surrounding the state Department of Health and Human Resources.
Meanwhile, the Senate's Democratic minority, with three members, selected a new leader: Mike Woelfel of Cabell County.
Woelfel's position as minority leader was announced today. Woelfel, who has served in the Senate since 2014. He succeeds the prior minority leader, Stephen Baldwin, who was defeated in the most recent General Election. "I am grateful and humble to selected by my peers for this key position," Woelfel stated in an announcement.
The minority whip will be Senator Bob Plymale of Wayne County. Those two will have to ask the third Democrat, Mike Caputo of Marion County, what he thinks about issues.
"Our caucus will remain laser focused on economic development, public education, infrastructure and constituent services," Woelfel said in today's announcement. "Every day we will continue to work across the aisle to move West Virginia forward."
The Senate now has 31 Republicans out of the 34 members after the election and then the switch of Senator Glenn Jeffries from Democrat to Republican. That's way up from the prior 23-Republican majority.
The Senate's Republicans gathered last weekend to discuss policy priorities and to put forth their nominee for president of the chamber. The Senate President will be officially chosen by the full body once the regular session begins.
But there is little doubt: It's Blair.
Senator Patricia Rucker, R-Jefferson, in late August had announced a challenge for the president's role. But last month, Rucker said that although frustrations continue over some key issues, she would withdraw.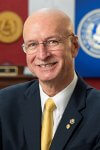 "We've got a whole package of things that we want to do and what we want to work on," Blair said today on "Talkline."
Public education will be a "huge priority," Blair said. "We've done just about everything we can for charter schools, home schools, microschools, alternative education in the state of West Virginia. It's time to take a deep dive into public education."
The Public Employees Insurance Agency needs attention after a five-year outlook anticipated state costs will skyrocket by hundreds of millions of dollars.
In 2018, rising insurance premiums and flat pay prompted a statewide teachers strike. A PEIA Task Force formed in response to concerns, but the governor wound up stepping in to establish a reserve fund of more than $100 million to hedge against rising insurance costs.
Since then, Blair said, "the governor, the executive, has not done anything. In fact, it's been quite the opposite, he's said he doesn't want to do anything until he leaves office. I guess you can say we've been complicit with that as well, but I'm telling you we're doing work trying to prepare to be able to manage PEIA."
On taxes, Blair said, "I believe there will be a tax cut plan. That one has some coordination that needs to be done with the House of Delegates and the Governor's Office."
There was clear strain between Gov. Jim Justice and Senate leaders over a constitutional amendment issue that could have led to personal property tax cuts. But Blair said he believes the two can work together on tax issues.
"I'm willing to work with the governor, and I believe we're willing to work with the governor to move West Virginia forward," Blair said. "If that's not the case, it's probably going to be a decision made by the executive."
What are some of the priorities that the state legislature will focus on during the state legislative session? @WVSenatePres joins @HoppyKercheval to discuss those bullet points for the upcoming session. WATCH: https://t.co/yCFQ3nEhk6 pic.twitter.com/t3X1MBhCfb

— MetroNews (@WVMetroNews) December 6, 2022