Story by David Beard, The Dominion Post
CHARLESTON, W.Va. — The Senate Education Committee on Tuesday gave its blessing to a bill to allow county school boards to beef up campus security with independent contractors, and a bill resurrected from last year to require impact statements before school closures and consolidations.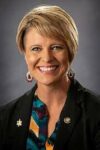 SB 282 creates the West Virginia Guardian program. It allows a county school board to engage specified individuals as independent contractors to provide public safety and security on school grounds: honorably discharged veterans, retired sheriff's deputies and state troopers, and certain retired federal law enforcement officers.
The contractor must have a valid concealed carry permit and may carry on campus. But the contractor would not be considered law enforcement and could not make arrests.
The contractor would have to take the Law Enforcement Professional Standards Program at the State Police Academy and undergo screenings: a physical examination, vision examination, a psychiatric examination, and a pre-employment drug screen. The contractor must cover the training and screening expenses.
County board participation is voluntary and subject to the availability of county funds. Any county board that opts to participate would do so at its own expense.
Rob Cunningham, deputy secretary of the Department of Homeland Security, told the senators he was involved in crafting the bill. "We have several holes throughout the state in each of our schools when it comes to safety," he said. There are not enough people to put an employee in every school."
The vetting and training are crucial, he said. "The training aspect will be key." There are two courses available: 13 weeks for $5,000 and three weeks for $750. They developed a curriculum to especially help veterans understand the nuts and bolts of what it takes to be successful as quasi-law enforcement in a school setting.
Committee chair Amy Grady, R-Mason, asked Cunningham if the bill also could help kids develop more appreciation for veterans and law enforcement.
Cunningham agreed, saying the state the state Board of Education has promoted the idea, "We want every student to find a least one adult. And this person may very well be that one adult they can for a relationship and a bond with, that they can go to with problems and that can help them throughout life."
Cunningham said he's already heard from people who are interested in signing up.
The bill passed in a voice vote without objection and goes to the full Senate.
Impact statement bill
SB 51 would require a school board to produce an impact statement before any school closure or consolidation, except in cases where county voters have already approved a bond issue that includes the schools in question.
The statement would have to be available for public inspection for 30 days before a public hearing on the proposed actions.
The statement would have to include the impact on students, including transportation times; the financial health of the county and the potential savings of the actions; the enrollment of the schools set to receive the students; school personnel, including layoffs; and on the community.
This bill, then SB 229, passed the Senate last year, saw an amendment in House Education but died in House Finance. Committee counsel told the senators this bill includes the House amendment.
Grady asked if the impact statement would be a mere formality or would be used in the school board's deliberations. That sparked a long discussion.
Counsel siad the bill only requires the statement to be publicly available.
Sens. Charles Trump, R-Morgan, and Robert Plymale, D-Wayne, both said the majority of school boards already consider these things, but the statement demonstrates to the public they've put the thought into it. The bill gives the board a good structure to work with.
Sen. David Stover, R-Wyoming, said his county went from six high schools to two. Everyone in the county knew and talked about it every day. "I've never seen board of education meetings so filled, ever."
Sen. Jay Taylor, R-Taylor, offered a conceptual amendment – meaning counsel will draft the exact wording – to require boards to give substantial weight to the impact statement.
Members adopted the amendment and approved the bill in a voice vote with no objections. It goes to the full Senate.
U.S. motto bill
The committee also approved SB 251 in a voice vote.
It requires a public elementary or secondary school or a public institution of higher education to "display in a conspicuous place in each building of the school or institution a durable poster or framed copy of the United States national motto, 'In God We Trust.'"
The poster or copy must be donated or purchased with private funds. It must contain a representation of the U.S. flag centered under the motto and a representation of the state flag.It my not contain any other words or images.
Lead sponsor Sen. Mike Azinger, R-Wood, said the idea came from former Virginia Congressman Randy Forbes, who had a similar measure pass out of the U.S. House 396-9; subsequently 4 millon posters were sent out, and 100 of them are on display in Congressional buildings.
In an era of polarization, he said, "This is something that will unite folks. … I just think it would be a great thing for our state and for our kids."
This bill also goes to the full Senate.