Delegates narrowly passed a bill to limit financial damages in cases where injured workers can prove deliberate intent by employers who cut corners on safety.
House Bill 3270 passed 52-45 with three absences after passionate debate about the value of a life in dangerous workplace situations.
"On this, I think I was voted in not to come up here and put a cap on someone's life," said Delegate David Adkins, R-Lincoln. "So that's what I've got to say about the bill."
West Virginia's workers compensation policies were established to cover liability for workplace injuries. But if injured workers can meet a burden of proof that their employers acted with "deliberate intent," then they may be eligible for court claims beyond what workers comp provides.
Business representatives, particularly from the timber industry, have contended that West Virginia's current policies mean insurance costs are growing at unsustainable rates, even for responsible employers.
Injured workers, family members and their attorneys have responded with stories of workplace accidents that could have been prevented, saying their ability to earn a living would never be the same. Examples include stories of being crushed by rock falls, traumatic head injuries and limbs lost to accidents with saws.
"It's about dismemberment, losing an arm or leg," said Delegate Sean Hornbuckle, D-Cabell. "I refuse to come down here and do this."
The bill that was amended during its consideration by the Legislature would limit non-economic damages to whichever is higher: two times the economic damages in a case or $500,000 per person. And claims for lung damage in workplace settings would have a higher burden of proof applied.
Delegate John Paul Hott, R-Grant. described the bill as a step in the right direction.
"I believe it to be a bill that we can move forward," he said.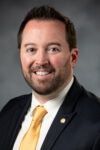 Others strongly disagreed.
"We're saying $500,000 for that life," said Delegate Shawn Fluharty, D-Ohio. "The hypocrisy in this place is at an all-time high. For the past decade, I've heard Republicans say there's a war on coal. Couldn't see a campaign flyer without saying that. And today, Republicans are saying miner's life — $500,000."