MARTINSBURG, W.Va. — Three students and three adults died Monday after a shooter came into their elementary school in Nashville.
Eastern Panhandle law enforcement and school officials conduct in-service sessions throughout the year in an effort to prepare. In August, they held a joint exercise in Jefferson County that trained staff and law enforcement on active shooter situations.
Martinsburg Police Chief George Swartwood spoke to MetroNews affiliate WEPM at the exercise and said he wants his officers going toward the situation.
"You go in.  You end up there, one at a time, couple two, three at a time, but go in. That's so important.  That's what we stress," he said.
"We wanted our officers to feel that," Swartwood said.  "We wanted them to feel the tension, the anxiety, the screaming, the yelling.
"You're going to see things you don't want to see" in a real-life active shooter situation," according to Swartwood.  "Children shot, teachers shot, people scared, screaming, running, and you're going to make decisions real quick, assess things real quick."
The drill conducted at Jefferson County's Wildwood Middle School involved more than 90 law enforcement officers as well as volunteers. School administrators conducted that school safety drill during the summer before students were on campus.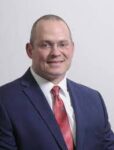 Even though West Virginia schools have been relatively spared from violence coming into the classroom, law enforcement is still on guard.
Berkeley County Sheriff Nathan Harmon said on Panhandle Live Tuesday there's no room to let your guard down.
"Let's stop being idle about the situation, honestly," he said. "Just because it hasn't happened here, yet, doesn't mean we can waste time and talk it to death. We have to put our hands on it and talk about some of these uncomfortable situations and recognize it for what it is."
Harmon said school shooters are doing their homework.
"You have to put your mindset into the mind of a bad guy," he said.
He said hands-on practical training is needed.
"We have to have meaningful conversation quickly after a plan moving forward," Harmon said.
You can read more on last summer's drill here:
Eastern Panhandle law enforcement tackle real-life school safety scenarios