FAYETTEVILLE, W.Va. — A freshman member of the West Virginia House of Delegates switched political parties Monday.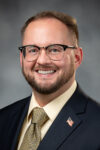 Delegate David Elliott Pritt, an Air Force veteran and school teacher from Oak Hill, made the switch from Democrat to Republican as a handful of supporters looked on at the Fayette County Courthouse.
Pritt was first elected last year. He was one of only 12 Democrats in the House. The new count is 89 Republicans and 11 Democrats in the 100-member House.
West Virginia Republican Party Chairwoman Elgine McArdle welcomed Pritt into the GOP in a statement released Monday morning.
"Like so many West Virginians, Delegate Pritt has recognized that the Democratic Party of today is not the Democratic Party that our parents grew up with," McCardle said. "West Virginians have fled the Democratic Party in droves – and continue to do so. The WVGOP welcome all West Virginians who will support commonsense conservative values to join our team as we work together to defeat Joe Biden in Washington, Joe Manchin in West Virginia and elect Republicans up and down the ballot."
Pritt defeated Del. Austin Haynes in the November 2022 General Election. Haynes came under fire last fire in connection with allegations of sexual harassment while he was a delegate.
Ballotpedia lists Pritt as having past affiliations with the West Virginia Mountain Party SEC, Socialist Party USA Anti-War Commission, and Veterans for Peace.