CHARLESTON, W.Va. — U.S. Senator Joe Manchin says he continues to think about possibly leaving the Democratic Party and becoming an independent.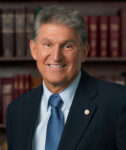 "I would think very seriously about that. I've been thinking about that for quite some time. I haven't made any decisions whatsoever on any of my political direction," Manchin said during an appearance Thursday on MetroNews "Talkline." "I want to make sure my voice is truly an independent voice, when I'm speaking I'm speaking about the good the Republicans do and the good the Democrats continue to do."
Manchin's seat is up for election next year. Republicans, Gov. Jim Justice and Rep. Alex Mooney, have already announced their candidacies.
Manchin said he's thinking seriously about a possible switch to independent.
"For me, I have to have peace of mind basically," he said. "The brand has become so bad. The 'D' brand and 'R' brand. In West Virginia, the 'D' brand beause it's nationally bad. It's not the Democrats in West Virginia. It's the Democrats in Washington or the Washington policies of the Democrats. You've heard me say a million times that I'm not a Washington Democrat."
Manchin told "Talkline" Host Hoppy Kercheval he can't accept either party right now.
"Then why don't you become an independent? Have you thought about that?" Kercheval asked.
"Absolutely," Manchin said.
Manchin also said Thursday he doesn't think a possible third party candidate in next year's presidential election would hurt Democrats and help in the possible reelection of Donald Trump.
"The bottom line is–will the middle speak up? Does the middle have a voice? If we can create a movement that people understand that we could have a voice. We could make a big, big splash and maybe bring the traditional parties, the Democratic and Republican Party, back to what they should be today but they've gone off the Richter Scale, both sides."