CHARLESTON, W.Va. — House Minority Leader Tim Miley said he welcomes any form of education legislation, including an omnibus bill, as long as it is "meaningful."
Miley (D-Harrison) appearing on Wednesday's MetroNews 'Talkline,' spoke his thoughts on the education reform bill that passed through the state Senate, on Senate Republicans, and said his caucus may have a conference call Wednesday night to discuss what's next.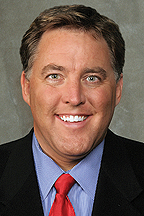 "We just want to pass legislation that is meaningful whether it takes the form of an omnibus bill or individual bills," Miley said.
"If it's going to take an omnibus bill form, my recommendation would be to send back what we passed in the regular session."
This week an omnibus education bill, called the Student Success Act, passed the state Senate 18-15-1.
The passage came with amendments to the bill including banning teacher strikes, cancel extracurricular activities during work stoppages, and take control away from county superintendents on the decision to close schools in anticipation of a strike or to help a strike.
Miley said the Senate Republicans backing those provisions are being hypocritical and inconsistent.
"One side of their mouths, the Senate Republicans talked about giving control at the local level but out of the other side of the mouth they don't want local superintendents, local teachers and local boards of educations to make decisions. They want that to be driven by legislative leadership in Charleston," he said.
.@TimMileyWV (D-Harrison) speaks with @HoppyKercheval about his opinion on the Student Success Act and education reform in WV. WATCH: https://t.co/wkudfIAoe1 pic.twitter.com/matxfxUN2H

— MetroNews (@WVMetroNews) June 5, 2019
Charter schools have been one of the most talked about provisions in the Student Success Act. An unlimited number of charter schools would be put into law with this bill.
Miley said he wants to push for alternative learning environments and expansion of education innovation zones, but he said the state Senate version of charter schools will simply not work.
He said the students selected for the charter schools will not be random.
"They are going to cherry-pick the best students and generally the parents who are involved in their kid's education or kids who perform best, those are the parents who might explore sending their kids to a charter school," Miley said.
"Because charter schools want to have good results to turn to and say "see this is why we need charter schools."
House Speaker Roger Hanshaw announced the leaders of four education committees on Tuesday.
Hanshaw (R-Clay) said the committees intend to deliberate over individual bills.
The House is set to return to a special session at 8:30 a.m. June 17.