PHILIPPI, W.Va. — A new scenic route has been unveiled in Barbour County as part of the West Virginia Mountain Rides program.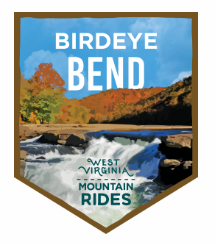 Gov. Jim Justice joined state tourism and transportation leaders Friday at Blue and Gray Park in Philippi to welcome the Birdeye Bend route.
The route stretches 173.4 miles in the northern part of the state by taking Route 7 from Morgantown, down Route 72 to Parsons then Route 219 to Elkins, out to Phillipi, Clarksburg and looping back to Morgantown on Route 20.
It's about a 4-hour and 19-minute round trip drive.
"This route is right in the heart of West Virginia," said Randy Damron with the state Department of Transportation.
Birdeye Bend is the latest of four scenic routes designed to show off the state's country roads. The routes are specifically selected to appeal to both cars and motorcycles.
The goal is complete 11 scenic routes total.
Damron said the program is through a partnership with the state Department of Tourism.
"Our guys have gone out with a magnifying glass and made sure these roads are in tip-top shape — potholes, gravels, striping and guardrail and so forth — and tourism is our promotional agent," he explained.
Ruby said the roads are selected for people both in and out of state who want to explore West Virginia's beauty.
"You see people here all the time. Not only do we see a lot of West Virginians traveling around, but we're starting to get people from across the country and around the world," Ruby said.
Ruby credited Gov. Jim Justice for pushing for tourism leaders to welcome more people to the Mountain State.
"The governor said we want routes. We want routes all over the state. We want you to find the right businesses," she said. "He keeps saying do more, do more. These are the types of projects that are raising those numbers."
The other three routes announced as part of the West Virginia Mountain Rides program includes Senaca Skyway which runs from Lewisburg to Davis, Capitol Circle which runs from Charleston down to Logan and out to Beckley, and Cranberry Corridor from Gauley Bridge to Lewisburg.