MARTINSBURG, W.Va. — Berkeley County Sheriff Nathan Harmon has been indicted on four misdemeanor counts by a Berkeley County grand jury.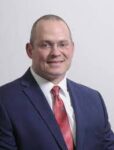 The indictments, which came down Tuesday afternoon, are related to a months-long investigation into Harmon's actions following his daughter Carrie's Jan. 6 car wreck on Cemetery Road just outside of Martinsburg.
Harmon is named in two counts of obstruction and two counts of providing false information to a state trooper.
The indictment alleges Harmon obstructed the investigating deputy at the scene of the crash. The second obstruction count alleges Harmon deleted or concealed GPS tracking data from his daughter's car on Jan 12.
The grand jury also indicted the sheriff for allegedly lying to the investigating state trooper in June about a preliminary breath test not being administered to his daughter. The fourth count alleges Harmon lied about what he did to the GPS to the trooper.
Following widespread news of the accident, which did not result in charges for the sheriff's daughter, there was public pressure for an investigation of the sheriff's response the night of the accident, specifically whether he impeded the responding officers' ability to conduct the investigation or intervened.
Carrie Harmon told the responding deputy, Deputy William Henderson, that she swerved to miss a deer. She also told him that her father was on the way to the scene.
Sheriff Harmon did arrive a few minutes later. He said in a statement released in the days following the crash that he wanted to make sure his daughter was "medically sound."
Harmon also said he wanted to be transparent. He called the wreck "a basic traffic accident where there was no sign of alcohol involved."
Henderson's body cam shows Sheriff Harmon walked toward the crash scene and asked Henderson "Is she drinking?"
Henderson responded, "I can't tell."
In the official report, also released by the sheriff in late January, Henderson does not indicate suspecting drug or alcohol use.
Fueling speculation was portion of a Snapchat video posted on Facebook of Carrie Harmon saying she had "done did it" and was thankful her father was coming to the scene.
Carrie Harmon offered an explanation for what she said in the video in a social media post.
"the video of me driving off thanking my father was me being arrogant and attempting to sound gracious for getting out of a speeding ticket (have we not all been gracious enough to get out of a speeding ticket)," Harmon posted.
The case against Sheriff Harmon is being prosecuted by Morgan County Prosecutor Dan James who was named special prosecutor in the case after Berkeley County Prosecutor Catie Delligatti asked for another prosecutor "out of an abundance of caution and to ensure transparency."
James said the case will now head to Berkeley County Circuit Court where the sheriff will be arraigned and given the opportunity to enter a plea.
Each of the charges carries up to a year in jail and fines from $25 to $500.
Prosecutor James said his office could not offer further comment but said under the law a person is presumed innocent until proven otherwise.
James told MetroNews the investigation was handled by a West Virginia State Police 1st Sgt. W.M. Roden out of Hardy County.
When contacted by MetroNews Wednesday, Harmon said he had retained counsel and anticipated making a statement at a later date.