CHARLES TOWN, W.Va. — The launch of a sports betting app through Draft Kings at the Hollywood Casino in Charles Town is going to be delayed "several more weeks," according to state Lottery Director John Myers.
Myers told MetroNews on Wednesday that while all testing is complete on the app, officials are making sure that the servers needed to run the show are functioning in West Virginia.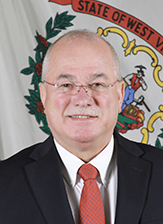 "The location of one of the servers was in question during the testing period," Myers said. "I think we have agreement among everybody that that needs to be located in the state of West Virginia in order to make sure that there is not an issue or violation of the federal Wire Act."
Myers said the two Draft Kings servers need to be in the state include the bet server, which is already in Charles Town, and the wallet server, which sits in New Jersey.
The wallet server checks a customer has money in an account to place a wager. Myers said once the bet is closed, Draft Kings can record it where they want to but officials want both pieces in West Virginia.
The federal Wire Act, a 1961 law, states that the bet or any information that assists in placing the bet must be inside the state. It cannot travel across state lines.
"They are going to have to split two functions that are on that existing server," Myers said. "For that to occur, it's going to have to take some time to reprogram and create that split of information on that server. That will allow us to move forward."
Testing on the app wrapped up in late May, as once it officially launches, it will be accessible to anyone within state borders.
Myers said the lottery is just trying to be careful with West Virginia being one of the first states to offer such games.
"There is not a precedent to go by in the law," he said. "There's not a precedent to go by in creating platforms and these systems that move the data around. We are kind of learning as we go."
Delaware North, the parent company of Mardi Gras Casino in Cross Lanes and Wheeling Island Casino in Wheeling abruptly shut down its sports betting app BetLucky in March, just a three months after its launch.
They were the first two casinos in West Virginia to offer a sports betting app.
The company, which also closed on-site sports betting, said the shut down was because of a contract dispute between the company's management services provider and a third-party, technology vendor, Miomni Gaming.
Delaware North then terminated the deal with Miomni Gaming and have said it may take several more months for an agreement with a new vendor is reached.